Personalised Gifts Same Day Delivery
Personalised Gifts Same Day Delivery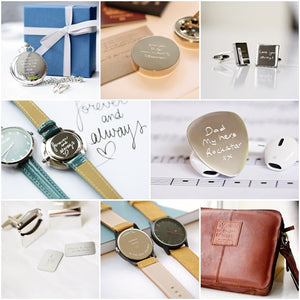 Fast Personalised Gifts
What! Is this possible? Same day gifts?
If you look at our online personalised gift reviews you will see we receive fantastic feedback on our gifts but the thing people love the most is the speed of delivery.
In the last 4 years we have engraved and dispatched 100% each and every one of our orders within 1 business day.
If you place an order with us early enough in the day and choose a fast delivery option, there is a very high chance you will get the item the very next day. If you are keen to pay a bit more, we offer a same day guaranteed service where we will engrave and dispatch your engraved personalised watch, compass, neckalce or whatever the order is, the very same day!
We promise not to rush the engraving either. We will take the same care and offer the same quality checks as any other personalised gift order.